5 WAYS OF COPING IN IBADAN THIS COLD SEASON: FOR BOTH SINGLES AND RELATIONSHIP PEOPLE
This cold season hasn't been in any way funny. The funny thing is that when the cold eventually goes and heat comes, we would eventually forget everything about the cold season due to its intensity. Everything is just extra extra.
I tire
. I'm always on my bed all wrapped up because I cannot come and freeze this season.
I cannot really say when the cold would eventually go but I can dish out some great ways of coping this cold season that would make sense for both singles and those in a relationship. You know, singles tend to get intimidated when they see people status read
'Omo, this weather is perfect for me and bae'
So I thought it sense making to dish out these methods in twos. Great right?
5 WAYS OF COPING IN IBADAN THIS COLD SEASON
1. WEAR PROTECTIVE CLOTHES
Make I no lie, I've not followed this by heart o but now that I'm writing it, it would serve as a guide and reminder to myself and everyone else. I have quite a number of short stuffs even though I'm gradually disposing them and getting my wardrobe upgraded with longer and befitting stuffs. Forget me. Let's talk generally.
SINGLES
: Wear longer and protective clothes. You know that sweater you've not worn in a 100 years? Now is the time to stylishly wear it. You can always wear a sweater and match it with a skirt
(ladies)
or trouser
(men)
. You can also make it more complicated by wearing a shirt underneath with the collar tucking out. Y'all know I'm not the fashion type. So, you know how it goes now. Wear long sleeves and longer boots if you have one. Socks are also cool this season. Guys know how to rock their socks. Socks is becoming an item in the ladies fashion world.
RELATIONSHIP PEOPLE
: How far that your oversize tee? Go and dig it out
jare.
It's time to rock it. Bae would love it on you! One thing about oversize tees is that you fit hide under the joke that you're being all sweet for bae meanwhile
na cold wan mess you up.
So, you can hide your hands under it if your hands are getting too cold. Guys, you can wear two piece clothing just incase bae gets too cold. So, you can remove one and hang it around her so that the cold won't mess up a good time.
All na fashion!
😂😂😂
2. STAY AT HOME MORE
Except you have to wake up early to go to work, it would be best if you stay at home more in this cold season. The reason is not far fetched. The cold is accompanied with rain. Rain has been falling incessantly down here in Ibadan. What if you decide to go out and you get stuck because of the rain? Even if you decide to go out, once you notice the weather changing, rush whatever you're doing and make your way back home so that you don't have to start looking for a shed to hide yourself except you have a car. I went out for the greater part of today and was about going back to my hostel when I decided to branch and see someone. I was on the bike when I noticed the weather change. The bike man told me rain was about falling and perhaps, had started falling somewhere else. I immediately told him to instead take me back to school rather than branch. Even though rain ended up not falling, it was a wise choice.
SINGLES
: Staying back home is just the perfect way of having a good time. If you would be going to work, staying back in the office would be great. During break time, eating in a nearby cafeteria would be wiser except you bring your food from home. This period, it would be best to bring food from home if possible to avoid going out and being stuck in an unpleasant situation or getting cold chills. Remember, the Lagos flood story? We don't pray for such. You can also invite friends over just in case you get too bored.
RELATIONSHIP PEOPLE
: Great time for y'all, yea? You and bae can simply stay home and netflix and chill. You guys can also cook at home rather than going out to get food.
Biko,
save money this season. As the rain falls outside, it's a great time to look each other in the eye and communicate your feelings and love to one another. Ask your partner questions. Don't worry, your partner
nor fit run away. Rain dey fall outside
and it's cold out there so bae is stuck with you!
#wickedgrin
😏😏😏😏
3. EAT HOT FOOD
This is very much practical. No cold pure water, no chilled beer, no cold anything like ice cream, yogurt etc. Cold things aren't even good for our bodies in the first place. Now is the best time to also avoid them all. Of course, cold bath is a big no no. Cold food would only intensify the shivers we are already getting which is bad for our health.
SINGLES
: That cold food you're about munching, warm it instead. For the cold eba eaters,
chai
, desist from it this season. Making another eba won't hurt. You know how restaurants can pass their boundaries by serving cold food,
kukuma
cook at home. This would be a great time to practice all your cooking skills in a quest to eating hot and healthy meals. Having hot water handy in case a hot coffee is needed won't be a bad idea. Make sure to take a bottle of hot water to office just in case.
RELATIONSHIP PEOPLE
: Cooking something hot and spicy for bae isn't a bad idea, is it? Preparing a hot bath for your significant other
(married people only)
is a way of restoring the spark of romance in your relationship. You know how it goes
na
. After a good hot meal is a good hot cuddle
(Still married people dem). For the ones wey never marry, go and marry kiakia so that you can enjoy everything legit.
4. TONE YOUR BODY
So that we don't go about looking like masquerades with overly white faces and bodies, toning won't be such a bad idea. For Vaseline lovers, this one
sure pass o
. If you are using a moisturizer, please get a toning cream. Some of these moisturizers after use will make our bodies start appearing like we didn't cream at all. Get one just for this season.
SINGLES
: Keeping a little toning cream in your bag or box won't be such a bad idea just incase your hands start getting white again or your knees start showing some white which could be so embarrassing. A well toned body as a man or woman is very attractive and you never can tell if this would be the factor that would get you a special wink! 😉😉😉😉
RELATIONSHIP PEOPLE:
You know you just have to look well toned for bae. Relationship people problem.
LMAO
! Anyway, just incase your partner starts looking like snow white, carrying a toning cream won't be such a bad idea. It's in the little things you know. Help her rub a Vaseline on her cracked looking lips accompanied with a kiss on the forehead rather than getting unnecessarily irritated. Hold his hands and rub Vaseline on them once you notice 'em white. It'll bring you both closer, you know.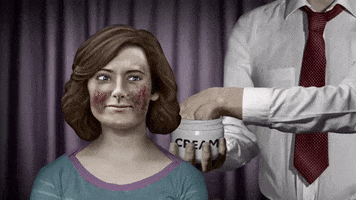 5. GET INVOLVED IN ACTIVITIES
Very effective! Get yourself involved more in activities. It's not a time to lazy around and sleep all day. I'm personally tempted to sleep all day due to the cold weather but then, I have to snap myself up and get myself doing something. Back home, I would do some jogging but now, there's not much opportunity for that. I'v resulted to walking. However, there are a couple of other activities.
SINGLES
: Early morning jogging isn't such a bad idea. Going to the gym in the evening is also very cool just to get some heat. Running up the stairs or taking the stairs rather than the lift is also a good way to get the cold far away.
RELATIONSHIP PEOPLE
: Doing chores together, doing some morning runs together and gyming together is a cool idea. Sweat it out!
I hope these tips come in handy so neither the single sweethearts nor the relationship people are left out. Happy Cold Season!
Photo Credit -
Google
Side Gist -
In a couple of days, we will be celebrating 100,000 page views on the blog. What a
waowu
! Only God can do it. Expect a sweet post on the day we hit the mark. Meanwhile, don't stop praying for the success of my exams o. Thanks a bunch!
Thanks For Reading!!!💗💋
EMETE