5 REASONS WHY YOU SHOULD WATCH ISOKEN, THE MOVIE
Before you jump from excitement, I've not seen this movie. Lol! However, I'll be seeing it pretty soon. Hopefully. But before then, I'll love to drop my 2 cents. By the way, I'm yet to see Alakada Reloaded. I heard Toyin Aimakhu made a lot of money from it. The reason I'm yet to see it is because I traveled out of Ibadan for a while and so, couldn't get my hands around another cinema outside Ibadan. Once I'm back which I'm hopeful should be soonest, I'll go see these movies and therefore do a review on them.
Now, there are 5 reasons I really want to see this movie and I feel you would be able to relate with them too. Let's get it on!
5 REASONS WHY YOU SHOULD WATCH ISOKEN, THE MOVIE
1. THE PLOT
After watching Alien: Covenant, I've decided to get my hands wrapped around the plot of a movie before I go see it. No money to waste! And from the trailer, I can say that the movie has a really cool plot. It centers round the life of a 30 something year old unmarried lady who is being pressurized by her family to get married. I'm sure so many singles will be able to relate to this. So many drama unfolds in the movie and I just can't wait to see it!
RELATED
:
MOVIE REVIEW: ALIEN COVENANT
2. THE COMIC RELIEF
People who saw this movie last Friday attested to the fact that it's really hilarious. Who doesn't want to throw in some popcorn amidst laughter? And it's always fun to see a funny movie because everyone will be laughing in the cinema unlike Alien: Covenant where we were all holding our seats and hissing at the same time. It would be a great one since they were able to combine love and comedy.
3. THE CAST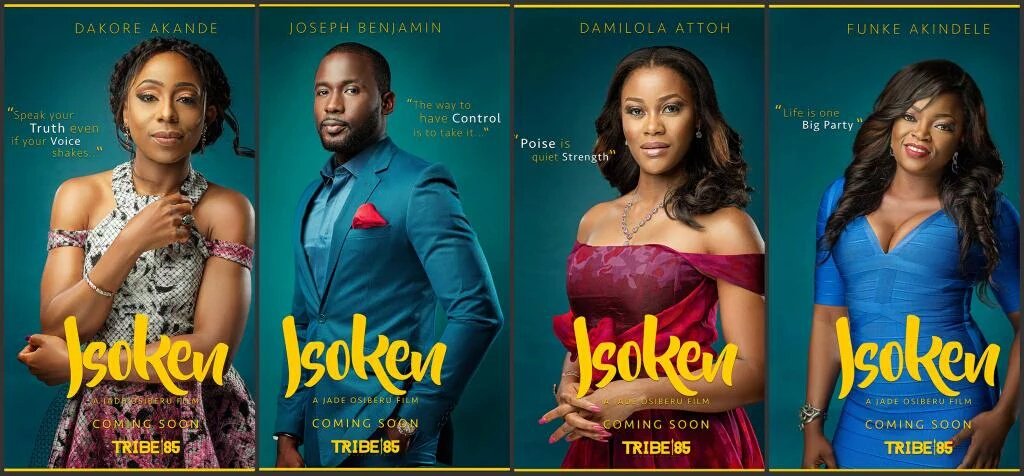 The casting of a movie is of utmost importance because in the end, if the movie doesn't have a good story-line, a good actor will end up saving the movie with good acting skills. This was the case of A Trip To Jamaica. The story line was obviously poor but the likes of AY, Funke Akindele - Bello, Nse Ikpe - Etim etc simply saved the movie. Now, the casting of this movie is super dope. People like Dakore Egbuson, Funke Akindele - Bello, Tina Mba, Damilola Adegbite - Attoh, Joseph Benjamin etc just makes me want to hug Jade Osiberu, the script writer. I'm sure they will kill the movie with good acting skills. People are already attesting to it.
4. THE CULTURAL THEME
Who remembers The Wedding Party? Of course, you can't forget the movie so soon. Theirs was a white wedding themed movie. Isoken is cultural. The theme of the movie is cultural and I'm so loving it. People who have watched it said they really killed the cultural setting and it was so dope and excellent. It makes you want to fall in love with our tradition. You know, we are always looking up to the white wedding that we eventually overlook and play down on the traditional wedding. Isoken removes the scales in our eyes and brings our tradition to life.
5. MONEY WELL SPENT
Someone commented that the fashion sense in the movie was overly excellent and she wishes she could just steal their entire wardrobe. The cameras did a great job. The food and setting was very much dope. They spent a huge amount of money and we can conclude it was well spent. Kudos!
RELATED:
3 TOP CINEMAS TO VISIT IN IBADAN
Just like The Wedding Party, this is another great movie. Let's support our own by rushing to the cinema to see this movie. I heard that tickets are already selling out and I'm hopeful that their hardwork will pay off! Well done to the entire Isoken Crew! Job well done!
PhotoCredit
- Google
Side Gist
- By the way, a fellow blogger, Amaka, who is also a beautiful commentator on this blog is celebrating her 3rd year of greatness on her blog. I mean, her blogversary. I mean, the 3rd anniversary of her blog. She's come a long way and we have to really celebrate her. You can check her blog at
www.amakamedia.com
To mark it, she's doing a giveaway with mouth watering prizes. I'm on it already and I really pray to win the money prize.You can also join the giveaway by following the steps laid down on her blog. Go check it out and make sure to hashtag #amakamediagiveaway.
Thanks For Reading!!!💗💋
EMETE