Holla Guys!
I think I would eventually make a section called '
The 5's'
because I always get to put up a countdown.
Sometimes, we are get too tired of being in the same environment and just want to switch to somewhere just like home and still have 100% fun. That's where hotels come to play. You know, if you want to really enjoy life at home, you have to think about money to fuel your generator except PHCN is now your friend or you use solar energy. You have to think of the food you will cook or how you will go out to get some food. You have to think of so many things and even how to get off distraction from neighbors. When it comes to hotels, you have little or no distraction from whoever, you can order your food to your hotel room and you can be guaranteed of power supply.
Hotels come in handy when you have to travel to somewhere you don't live and you need somewhere to stay for a while. You can be in Lagos and have a business meeting in Ibadan. If you don't know anyone in Ibadan, you have to get your hands around hotels in Ibadan. If you have just been transferred from you former place of work down to Ibadan, before you start sorting out an apartment, you would have to stay in a hotel for the first few weeks. That is why I will be dishing out my 5 top hotels in Ibadan you can never go wrong with.
5 TOP HOTELS IN IBADAN
As I usually say, this is strictly my opinion. If you have a different opinion, please state it in the comment section below.
5. PREMIER HOTEL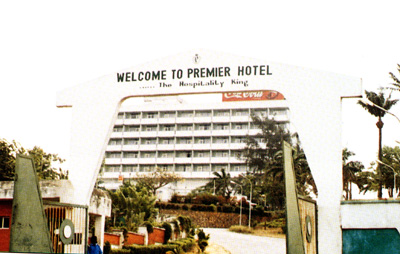 Premier Hotel is one of the oldest hotels in Ibadan and even in Nigeria. However, it still maintains a high level of standard. The hotel gives you the taste of the diverse urban lifestyle of Ibadan and tasty international and local dishes at it's restaurant. They have 8 different types of room ranging from classic which cost N16,000 (You are expected to make a deposit of N20,000) to Oduduwa Luxury suite which cost N165,000 (You are expected to make a deposit of N250,000). There are 4 types of hall where meetings can be held ranging from conference room which cost N50,000 per day to Banquet Hall which cost N300,000 per day. They also have an olympic size swimming pool which can also be used for events, internet service, 24 hours room service, lawn tennis court, a bereau de change for it's foreign guests and other amenities for your relaxation. It is located at Mokola Hill in Ibadan.
(Image Source 1 - AFK Travel)
(Image Source 2 -
Nite Stay
)
4. ROYAL CEDAR HOTELS AND APARTMENTS
Royal Cedar Hotels And Apartments is a top hotel in Ibadan. The rooms in this beautiful hotel offers city view with complimentary wireless internet access, breakfast to start your day, an outdoor pool, conference centre for your business events, housekeeping service and a daily room service. If you are visiting the commercial city, Royal cedar offers tour services, making it a perfect play to stay on a family vacation. It is located at Plot 7, Block 5, Alalubosa GRA; New GRA.
(Image Source 1 -
Nite Stay
)
(Image Source 2 -
Deal Dey
)
3. CARLTON GATE HOTEL
Carlton Gate Hotel is perfect for any relaxation where you can re - experience and discover the beauty of Ibadan. They have 6 different types of room ranging from Superior room which cost N20,700 to Royal Suites which cost N51,750. They have a great restaurant where sumptuous meals are served. They also have concierge desk, 24 hours room service, car rentals, free outdoor parking, valet service, swimming pool, top notch spa, fully equipped gym, wireless internet service and a conference room. Carlton offers the best services and facilities to guests and is ideal for leisure guests. It is located at Quater 860, Agodi GRA, Ibadan, Nigeria.
(Image Source 1 -
Nite Stay
)
(Image Source 2 -
Deal Dey
)
2. ORCHARD HOTEL
Orchard Hotel is located in the heart of the beautiful city of Ibadan. It is situated in a serene site where business and leisure travelers can relax and work without worries. It offers guests an awesome merger of relaxation and activities. Equipped with the best facilities for your relaxation, restaurant, a fully equipped gym, bar, wireless internet service, 24 hours front desk service and 45 bedroom with comfy bedding. The orchard hotel is fit for business and leisure purposes. It is located at Onireke GRA, opposite NDLEA office Link Reservation Crescent, Ibadan.
(Image Source 1 -
Travel Jumia
)
(Image Source 2 -
Nite Stay
)
1.
OWU CROWN HOTEL
Owu Crown Hotel is the only international hotel operating in Ibadan and is designed to extend signature warm hospitality combined with the local Nigerian flavour. They have 4 different types of room ranging from Standard room which costs N25,000 per night to Royal corner which costs N150,000 per night with each packaged with wireless internet connectivity. The hotel offers an extravagant feast for a fair price ranging from adult's portion costing N3,630 while children gets 50% discount. They also have a conference room, a standard swimming pool, two numbers decorative fountains, a gymnasium, a standard laundry and a well asphalt paved adequate parking lot. It is located at Km 2, Monatana, Iwo Road, Ibadan.
(Image Source 1 -
Nite Stay
)
(Image Source 2 - TripAdvisor)
Here we are! Our Five Top Hotels In Ibadan + The Most Booked Hotel In Ibadan. I hope it is very helpful to everyone. If you know anyone who needs this information, be kind enough to share and share!
PHOTO CREDIT - Owambe
SIDE GIST -
How
una dey?
Mehn
, the rate at which celebrity's marriage are just crashing
ehn
, I have a feeling that they are seriously pursuing them from their village. Who watched Tonto Dikeh's exclusive interview? I cried like no be today only that tears did not drop. I really pity the female celebrities because they are mostly at the suffering end. The only thing I don't understand is why Tonto Dikeh had to lie and pretend all these while to us that nothing is really going on in her marriage with all the pictures she was posting on instagram of her and her hubby. Why the need for pretense? The best thing is to keep your relationship off social media. You don't have to update us whether you are fine or not. KEEP YA MARRIAGE AND RELATIONSHIP OFF SOCIAL MEDIA OOOO!!!! The latest I'm hearing is that Ghanian actor, Chris Attoh and his wife, Damillola Adegbite's marriage is already hitting the rocks. We gats to go to ori - oke for these people o. May God have mercy and let's keep praying for them all.
Thanks for reading!!!💗💋
EMETE