Just because Omotola Jalade was going to feature in the movie, I decided to go see it. I also made sure I read some comments on the movie before going to see it because I can't bear to see my money waste again. It's quite funny that there hasn't been too much noise about the movie except on Instagram. Or maybe I'm the one who isn't listening.
RELATED
:
MOVIE REVIEW: ROTI
CINEMA EXPERIENCE
There weren't too many people at the box office when I arrived. I got my ticket around after 11am but the movie was slated for after 2pm. So, I had to wait for a very long time. Still, people weren't coming around. When it was almost time for the movie, a few people started trooping in and I sighed with relief. It was time for the movie and I found my way into the cinema. As usual, I found a comfortable seat at the extreme back. Lo and behold, more and more people began to troop into the cinema. The cinema was almost filled to the brim! I was elated. A lady beside me commented that the cinema was full because it was the day of the premier.
RELATED
:
3 TOP CINEMAS TO VISIT IN IBADAN
MOVIE REVIEW
PLOT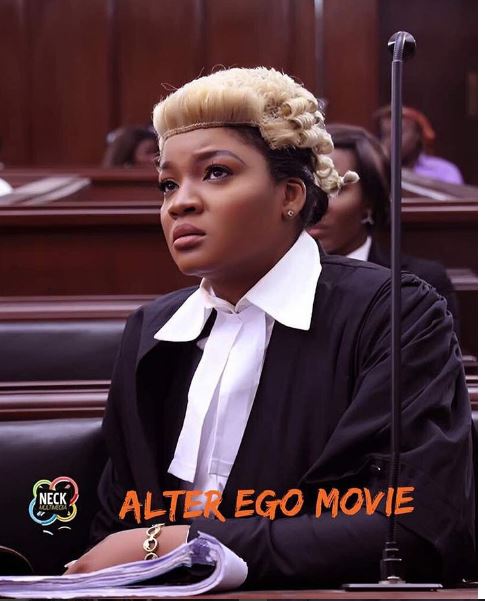 The movie started out with Adaora Igwe (played by Omotola Jalade) appearing in court as a lawyer as she battles to win a case. Eventually, she wins the case and the title of the movie comes on. The main movie starts with Adaora going home from work but is stuck in traffic. She asks her driver
(acted by sexy steel)
to find a way to maneuver through the traffic so that they could get to somewhere else. Looking around, the driver replies that there isn't much he can do since the road is absolutely blocked. Seeing the situation, she tells him to wind up and come meet her at the back seat. Reluctant at first but assured that the glasses were tinted, he joins her at the back seat and they have sex as the traffic subsides and other cars move away.
Adaora is soon faced with another court case. This time, a 15 year old girl gets pregnant for her landlord. The helpless girl and her mother do not have anywhere to run to than to Adaora who is fighting for the justice of assaulted women and children. Adaora takes up the case and goes as far as locating the wife of the man
( played by Jide Kosoko).
The case is a bit rough but she eventually wins the case and the husband is thrown out of the house by the wife who pays all his bills.
On a certain visit to her sister's house, her sister's boyfriend, Daniel
(acted by Kunle Remi
) comes in, complaining about how his law firm denied him the opportunity of taking a certain case up. In order to make her boyfriend happy, her sister talks about it to Adaora who reluctantly accepts. The case is a rape situation from a pastor of a church. The mother of the 15 year old girl refuses Adaora audience to speak to her and doesn't even want her to take up the case. Adaora decides to go about it in another way. She gets a wanted man who attends the Pastor's church and bargains with him, telling him to play an implicating video during the church service if he doesn't want to be exposed by her. The young man succumbs and plays the video of the pastor trying to have sex with one of the member's wife and the whole church scatters with the woman's husband storming the altar.
Daniel is surprised by the professionalism of Adaora and they get intimate and eventually have sex without the knowledge of his girlfriend, Adaora's sister.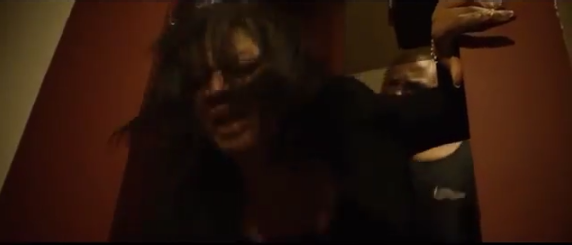 Adaora's life soon begins to crumble due to her untameable sexual urge. On her way back home from work, she gets a call from one of her fling partners who wants to see her but warns him to stay away from her. On getting home, she meets him in her house. Vexed, she orders him to leave but things go the other way as she falls helplessly for her sexual urge and she has anal sex with him, asking him to give it to her very hard, in a bid to clear her mind off her worries and pain.
On another occasion, while working in her house, she gets a view of her gardener who due to the hot weather, puts off his shirt and makes apparent his six pacs and masculinity. She tries to hold back her urge but unable to help herself, she calls him in and they both have sex. The next day, she gives him a sack letter. She also tells Daniel off, knowing fully well that she betrayed her sister.
On one of her many interviews on TV, a certain man, Timothy
(acted by Wole Ojo)
gets a glimpse and is very interested. He decides to pay her a visit after an event they both graced. They soon grow fond of each other and for once, Adaora falls in love.
Adaora gets a call concerning another case whereby a student is caught having sexual relations in her school. Adaora visits the school alongside Timothy and she eventually finds out that a certain teacher is responsible for the girl's actions. Timothy helps her in capturing the fleeing teacher and Adaora makes sure to sue him.
Timothy and Adaora get to have sex and soon enter into a relationship. During one of their many talks, they find themselves in a beach and Timothy demands to know about her past and her dark secret. Adaora isn't willing to share at first but finally concedes and tells him of how she was sexually abused repeatedly as a young, innocent and naive girl in Jss1 by her physical education teacher and how she soon became an addict but hid it under her professional self, thereby having two personalities. She gets very emotional but Timothy assures her that her secret is safe with him.
Timothy proposes they join hands to help the less privileged. On one of the many occasions, she observes a particular young lady who shys away from the many other kids who are celebrating her arrival. She goes in search of the girl but the girl runs away. Adaora follows her however. When she finally finds the girl, Timothy appears suddenly and calls her back to the attention of the other kids.
Getting back home, Adaora realizes that there is more to the situation and decides to go back in search of the girl but is unable to find her. At last, she locates the girl and kidnaps her to her house. She gains the girl's trust and the girl spills the beans about how she was sexually abused by her boyfriend, Timothy and begs her not to allow him know that she knows his secret. Adaora finds the information unbelievable at first and becomes very depressed when she finally finds out that the information is true.
Adaora cries her eyes out because for once in her life, she gets to fall in love but gets heart broken. Meanwhile, Timothy organises an orchestra to sing for Adaora at a restaurant where he plans to propose to her. She disgraces him and turns down his proposal. Very vexed, she decides to take the case up, assuring the girl and her brother justice and safety.
On one of the days when she visits her sister, she falls asleep and her sister discovers that she slept with her boyfriend after reading an incoming text from her boyfriend on Adaora's phone. She decides to betray her on the court day when she was to stand against Timothy. The first trial goes bad and the assaulted lady is scared for her life and accuses Adaora of lying to her. Adaora decides to take up the second trial very seriously and eventually wins against all odds from her sister and lies from Timothy amidst reference to her past and alter ego.
The girl and her brother appreciates Adaora's efforts and Adaora realizes that even after fighting for assaulted women and children, there was still one person in her past that she was yet to fight against. She takes a trip down to the debilitated house of her P.E teacher and meets him in a poor condition. She cries her eyes out to him and asks him why he made her life miserable. After his pleas and explanation, she brings out a gun to shoot him but on a second thought, puts it down since he was already in a terrible state. On her way out, she is met by her sister and boyfriend, Daniel. Daniel brings out a gun and aims it at her and she brings out her own gun as well and they both shoot. The screen goes blank.

THE END


RELATED

: MOVIE REVIEW: BOSS BABY

MY COMMENT

This is a pretty brilliant movie and I was even more anxious to see the 'stellar' performance by Omotola. She exceeded my expectations with an indeed stellar performance! For once, we were given a movie that is not all comedy but addresses important social issues. The script was brilliantly written. Lights, camera, sound, everything, top notch. The lady who sat beside me kept cleaning her eyes from all the tears she was shedding and I almost shed a tear or two. First time in a long time that a Nigerian movie would get me so emotional! However, the concluding part where someone shot whoever was not a nice way to end the movie. Perhaps, there might be Alter Ego part 2 because the movie cannot obviously end that way. Also, the sexual scenes were quite too much for a married woman but people would say she's only been professional. Okay. But that's my opinion. All in all, it's a great movie and I recommend it to everyone. It's a must watch!
RELATED
:
MOVIE REVIEW: ALAKADA RELOADED
MOVIE SCORE
73/100
Thanks For Reading!!!💗💋
EMETE