CELEBRATING INTERNATIONAL WOMEN'S DAY - WOMEN TAKE IBADAN
How can this post be coming days after the celebration? Well, it's actually because I just thought about it yesterday night and not a result of Procrastination. It was also inspired by a post
Cassie Daves
did on her blog celebrating female fashionistas and I thought, why don't I do a similar post? Sometimes, reading other people's work could stir up an idea and to better be more consistent here, I think I would be getting her blog planner. From the testimonies, it would be perfect for me. I really want to be consistent here by posting
EVERYDAY.
I would get there.
As the saying goes, 'it is better late than never'. This post is well overdue but it would still make sense. I wish I could write what I feel about the female folks presently but it would override the purpose of this post. So, it would be in another post - as a post itself. As a way of celebrating women and their achievements, we will be celebrating women who either come from Ibadan or are simply based in Ibadan and are doing wonders here or have visited Ibadan on one occasion or the other to do one or two things of greatness.
These women each have a story to tell. They didn't just wake up great. Yes, there was greatness in them and as life likes to make us feel many times, they many times felt that the greatness in them won't eventually show forth. But amidst opposition and negativity, they were very much determined and strong and they came out greater than they ever thought. Are you a woman? Are you where you feel you shouldn't be? Do you think there is greatness in you and you can achieve far much more? Are you getting discouraged already? Well, don't be because by being steadfast, you will touch the light at the end of the tunnel.
WOMEN TAKE IBADAN
This year's International Women's Day theme is -
BE BOLD FOR CHANGE.
Below are 10 women who have taken Ibadan and are truly bold for change. Enjoy!
1. ACHENYO IDACHABA
Achenyo Idachaba was born in the United States to Nigerian Parents and spent most of her growing up shuffling between Nigeria and America. In America, she had a successful career as a business analyst and computer scientist. However, she nursed the idea of moving back to Nigeria. She felt she wanted to come back and do something that would 'impact lives sustainably'. Finally, she moved to
IBADAN
in 2009 where she set up an environmental consulting business which was a turning point in her entire career before she finally set up her current company, MitiMeth in 2011. She is presently listed among the 100 most inspiring Nigerian women in 2017. She won the Cartier Initiative award for women in sub - saharan Africa in 2014. Her Ted Talk has received over 1.6 million views.
(Image Source -
Cartier Women's Initiative
)
2. TOYIN ABRAHAM
Toyin Abraham who is formerly known as Toyin Aimakhu was born in 1984 in Auchi Edo State. She is a film maker and producer who spent her formative years in
IBADAN.
She obtained a Higher National Diploma (HND) from the popular Ibadan Polytechnic. She is a Film Maker, Producer and Director and has many films to her name and one of the strongholds in the Nigerian Yoruba Film Industry. She is commonly referred to as 'Iya Ibadan' as she has not forgotten her Ibadan roots easily.
(Image Source -
Take Me To Naija
)
3. SADE ADU
Sade Adu is a British - Nigerian singer born on the 16th of January, 1959 in the city of
IBADAN.
After gaining worldwide fame as the lead vocalist in the English band,
SADE
, there was no turning back for her, career - wise. She alongside members of her band won so many awards to their name including a Grammy award. Sade's US certified sales so far stand at 23.5 million units according to Recording Industry Association of America (RIAA) website and have sold more than 50 million units worldwide to date. The band were ranked at number 50 on VH1's list of the 100 greatest artists of all time. In 2002, Sade was awarded an OBE for services to music, and stated her award was 'a great gesture to me and all black women in England'. In 2010, The Sunday Times named her the most successful solo British female artist in history. In 2012, Sade was placed at number 30 on VH1's '100 Greatest women in Music'. Sade is like a moving train. There is no pause to her game.
(Image Source - Pinterest)
4. ARESE UGWU
Arese Ugwu holds a M.Sc in Economic Development from University College London (UCL) and a B.Sc. in Business and Management from Aston Business School, Birmingham. She is an alumna of the Lagos Business School, INSEAD Abu Dhabi and The London School of Business executive education programs. She is the author of the best selling Finance Novel, Smart Money Woman and had one of her book tours in
IBADAN
at House of Tara in Palms Mall
.
She is the founder of the website, Smart Money Africa. It is a personal finance platform tailored to the African Millenial. She promotes financial literacy in Africa through speaking engagements, workshops as well as multiple media platforms. She serves as an independent director on the boards of House of Tara, the Nigeria Higher Education Foundation and Partnership Investment Plc. She is an associate member of WIMBIZ (Women in Managemnet Business and Public Service) and has served on the planning committee since 2015. She was recently listed as one of the 100 most inspiring Nigerian women in 2017.
If you are interested in reading everything about her book tour in Ibadan, simply click
HERE
(Image Source - Olori Supergal)
5. TOKE MAKINWA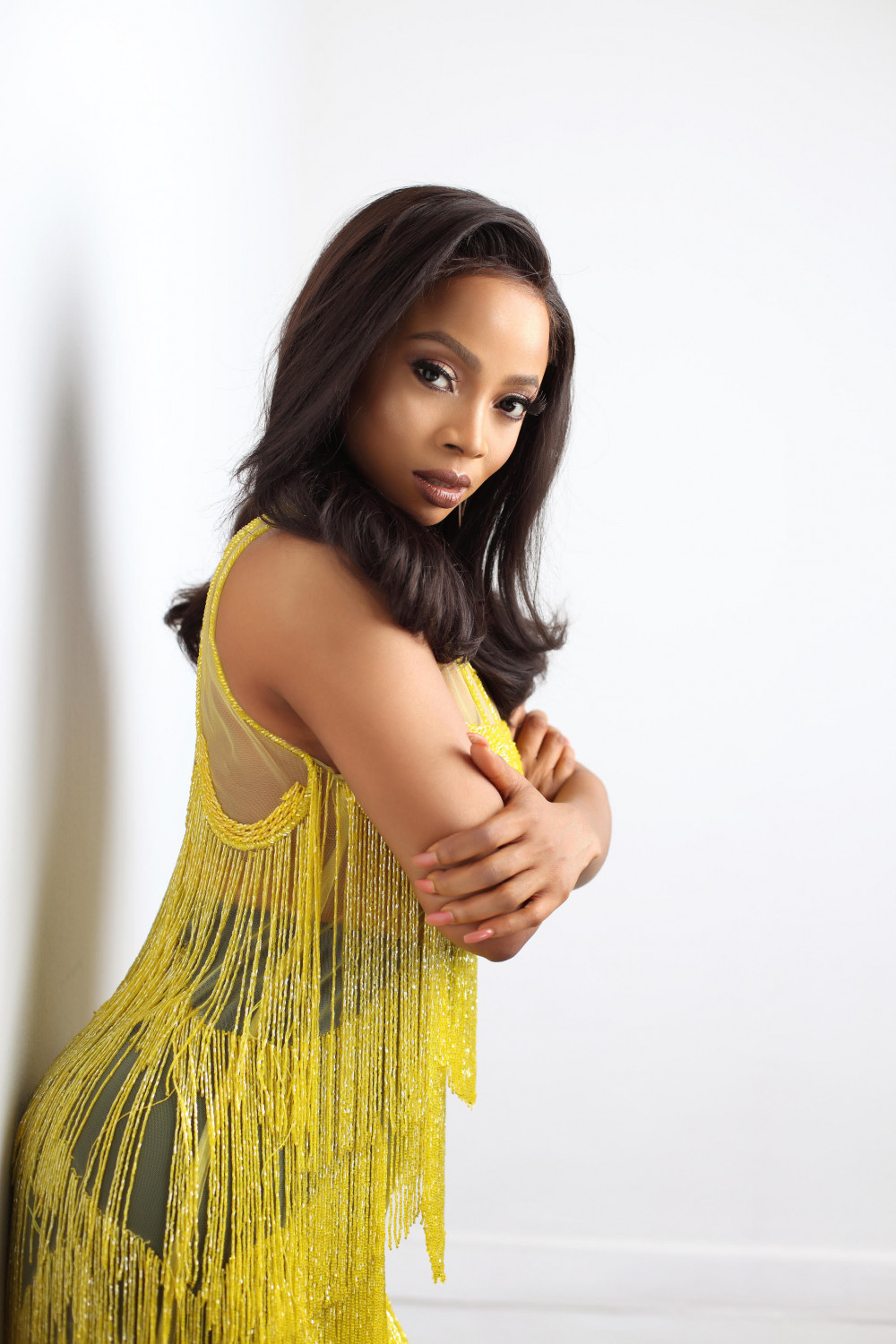 Toke Makinwa was born on the 3rd of November 1984. She is a Nigerian radio personality, vlogger, televison host and bestselling author. She is known for co - hosting many shows like The Morning Drive on Rhythm 93.7FM, 3LiveChicks, Trending on HipTV, Moments with MO on EbonyLive TV and the 2010 MBGN beauty pageant. She is also known for her YouTube vlog series, Toke Moments. In 2016, she released her best selling book, On Becoming and had one of her book tours in
IBADAN
where she shared her experience and spoke to youths at the The Booksellers Ibadan
.
She was recently listed as one of the 100 most inspiring Nigerian women in 2017.
(Image Source -
Bella Naija
)
6. UNOAKU ANYADIKE
Unoaku Anyadike is a Nigerian Model born on September 16, 1994. She graduated from the Univeristy of
IBADAN
where she once participated in the University's Ivory King and Queen Pageant but didn't win. Unlike others, Unoaku didn't give up. She went on to participate in the Most Beautiful Girl in Nigeria Beauty Pageant where she eventually won and was crowned winner in the 2015 edition. She went on to represent Nigeria in the Miss World competition in China in late 2015 and also Miss Universe in late 2016. She is also an entrepreneur, a public speaker and has a chieftain title to her name.
(Image Source - Vanguard Allure)
7. TIWALOLU ADEGBENRO
Tiwalolu Adegbenro is popularly known as Tiwa the tailor and is based in the city of Ibadan. She is a fashion stylist who has done very well for herself in the fashion industry. Due to her dexterity and fashion skills, she has worked with so many celebrities and brands. Asides from hailing from
IBADAN
, Tiwa decided to put her city on the map by setting up her business in Ibadan.
(Image Source - 9ja Campus Style)
8. KOLEOSHO OLOLADE
Koleosho Ololade is popularly known as Lolade ML PRO. Asides from attending the University of Ibadan, she is also a business owner, makeup artist and hair stylist. The 23 year old has achieved a lot for herself in such a little time. From having a beauty studio in
IBADAN
to making a name for herself whereby she is one call - up name when it comes to makeup in Ibadan. She was able to build on her skills by watching Youtube and Google turtorials of other makup artists. Her story is enough inspiration to the avearge female because she was able to stand against all odds even after loosing her parents at a tender age.
(Image Source - 9ja Campus Style)
9. EMETE
Wait. Why are you surprised? What were you expecting? Hehehe. Of course, my name just has to be here. Anyway, let me be professional about this. Grace Smart Emeteoghene commonly known as Emete is a blogger, entrepreneur, singer and business consultant. Her father is from Delta State while her mother is from Ibadan. Her business skills were sharpened after she gained admission into the University of Ibadan and had to leverage on opportunities that always came her way. In 2016, she started her first ever christian blog - Emete's Mind and in late 2016, she launched her current blog, Live In Ibadan due to her passion to correct misconceptions about
IBADAN
and showcase the fun side of Ibadan as a blog reader put it. She believes she will one day be listed among the 100 most inspiring Nigerian women and also in the world. She hopes to open a relationship blog very soon, set up her own business empire, help as many people as possible, own a christian musical pub and of course, get married to her prince charming and live happily ever after.
10. YOU
Yes, You woman reading this. It doesn't matter if you are young or old. You deserve to be here. You deserve your name on the biggest platform. You have greatness in you and in a matter of time, the would will stand up to recognize your greatness. You can do all things through Christ which strengthens you. You are strong. You are wise. You are bold. You are beautiful. You are brave. You deserve to be respected and loved. You deserve everything you wish for and I'm very sure years from now, we will all meet at the top motivating and encouraging generations coming after us.
(Image Source - The Herald Nigeria)
HAPPY INTERNATIONAL WOMEN'S DAY!!!
Stay Bold.
Stay Strong.
Stay You.
(
Image Source - Techfacts Live)
EMETE